So when I came back from Florida after Christmas, my older brother came back with us. He stayed about two weeks up here in the blistery cold (and still has the cough to prove it) and with the subtle hint of my dad asked me to make him a Valentine's Day card for his girlfriend Cindy and one for my niece Gaby.
For Cindy I knew I wanted to make an Easel card because I just love making those. I also wanted to use one of my leftover Christmas Tilda stamps. So I picked the pinkest Tilda I had (#3001 Wrapped Tilda which I bought from the Magnolia-Licious Store and the wonderful Diana). I mounted her on a heart embellishment which says "Love of my Life" and then adorned with squiggly ribbon and heart candy stickers. I also added some gems and some pink DP.
CARD 454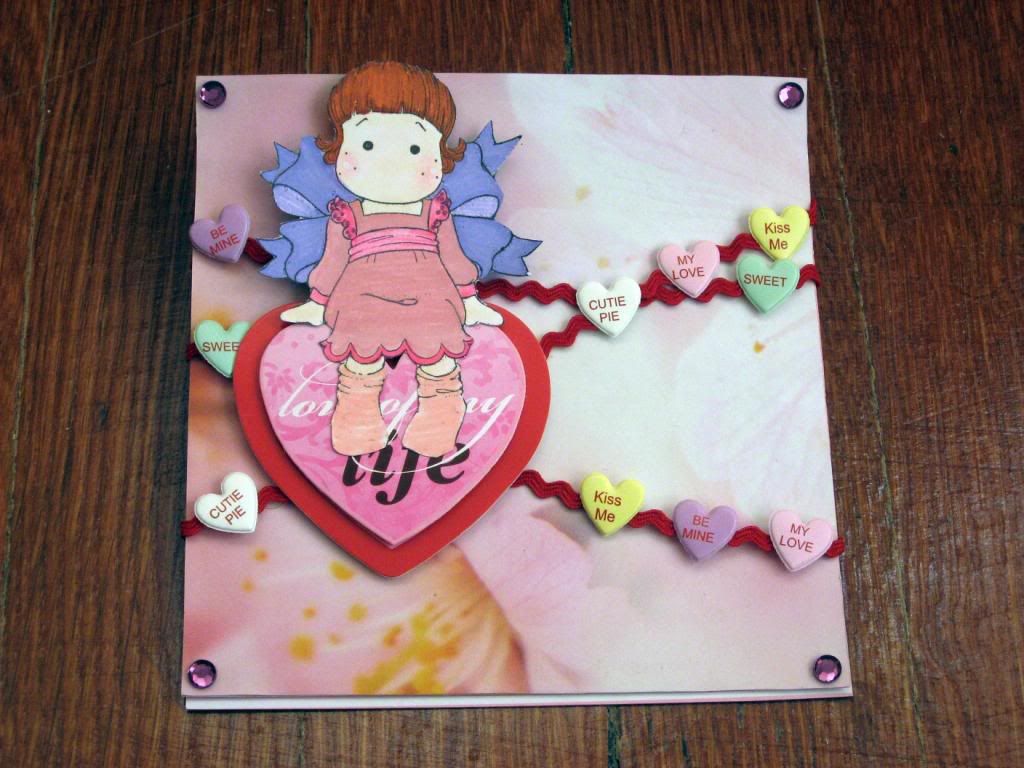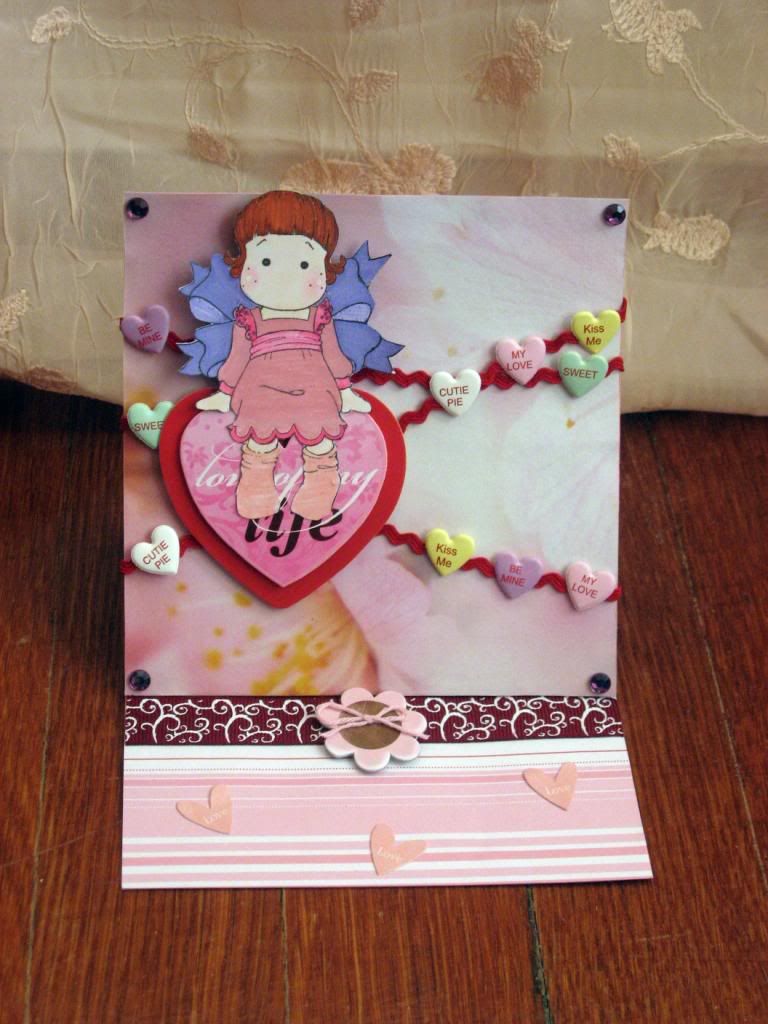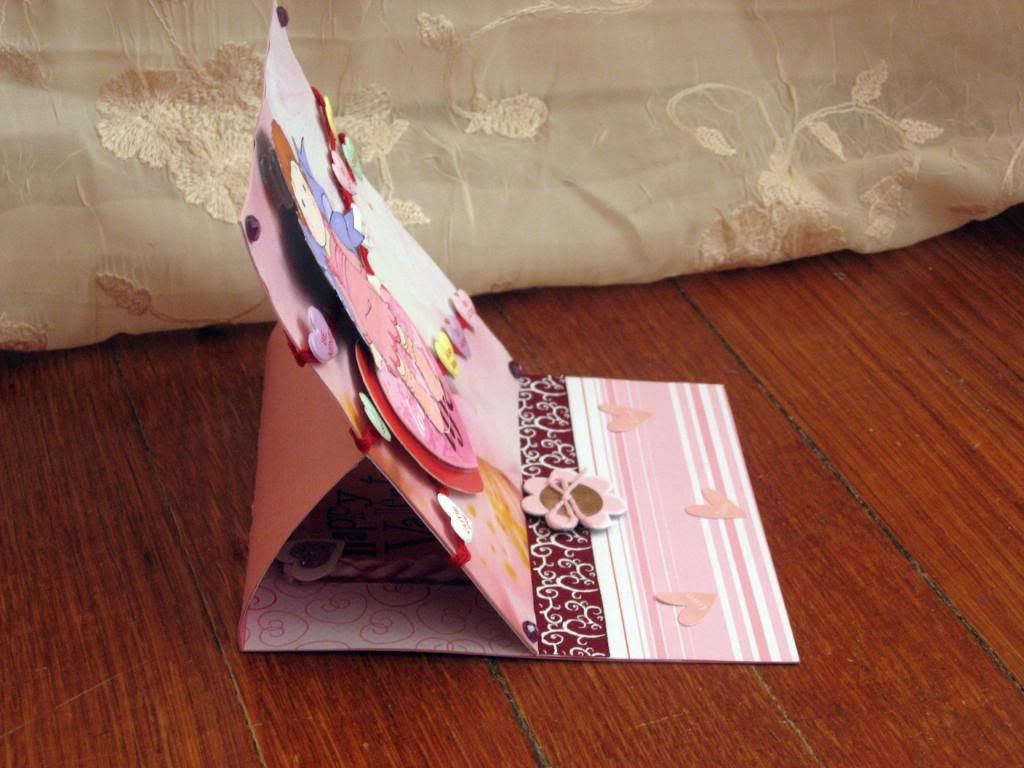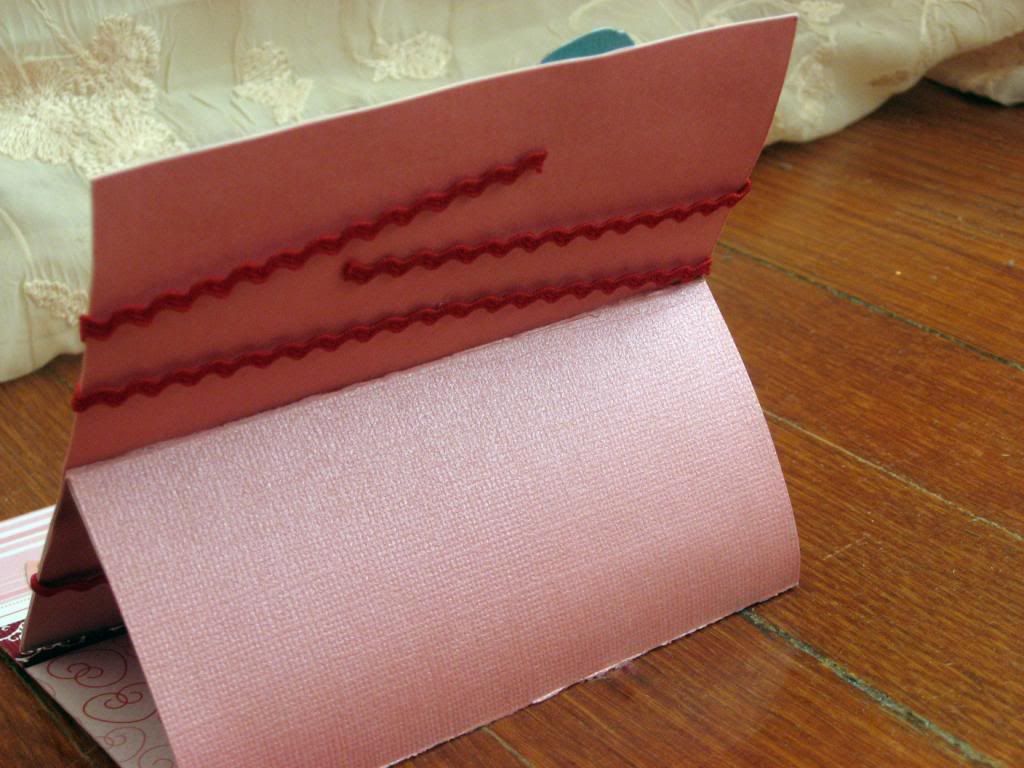 This is the interior of the card. I added more hearts, my trademark Chickie, and a "Happy Valentine's Day" saying.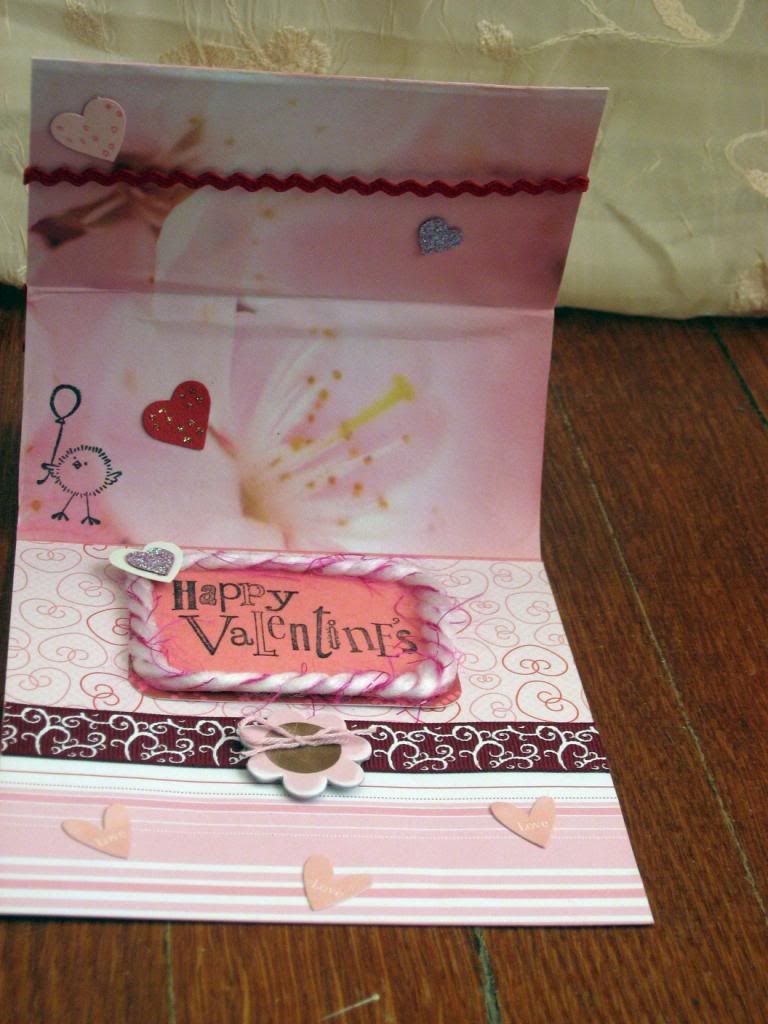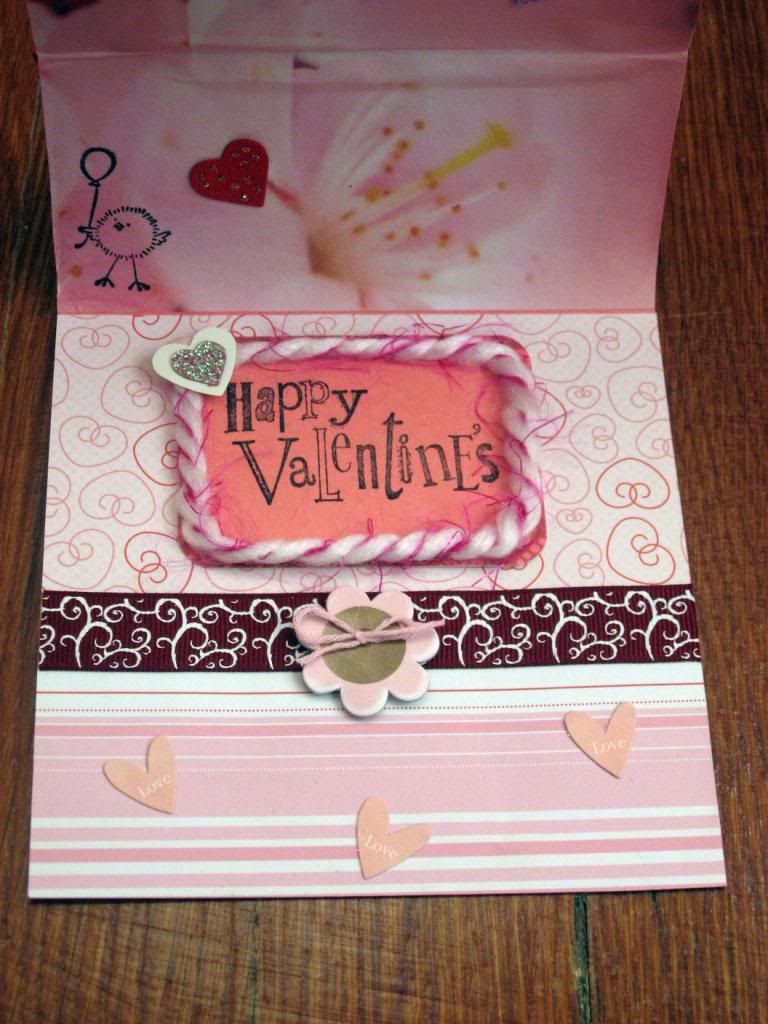 The envelope is simple with just a bouquet of hearts adorning it.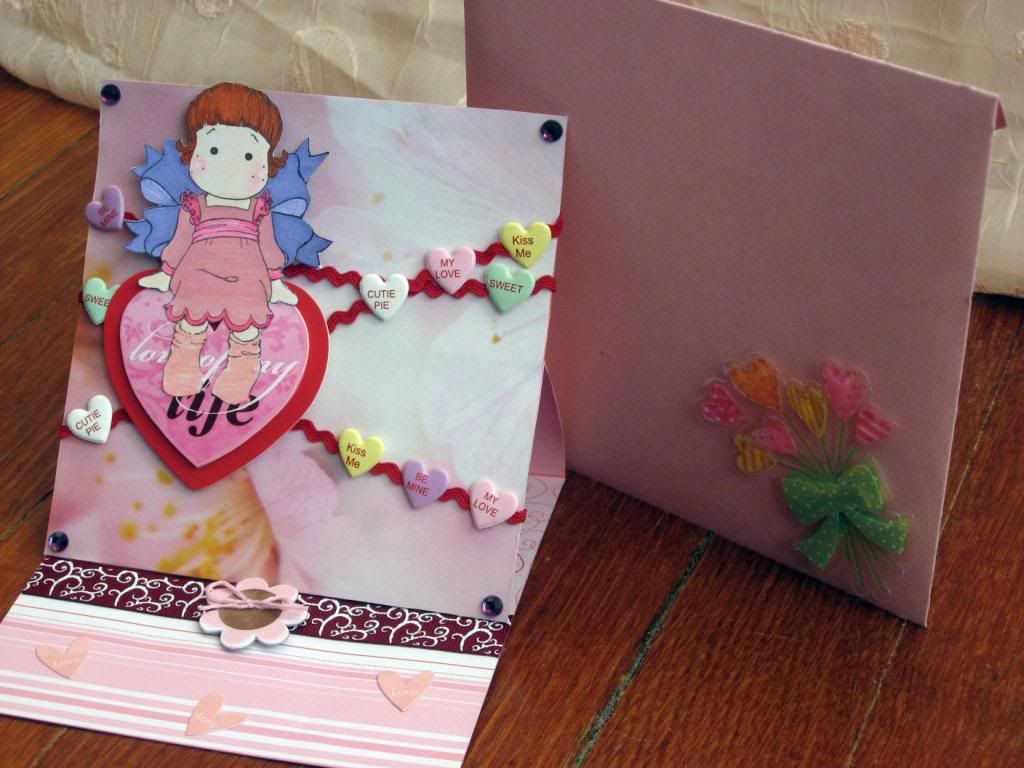 This is Gaby's Valentine's Day card. I wanted to use musical notes on hers because she loves listening to music. I took inspiration for this card from Cardmaker magazine which is an awesome magazine.

CARD 455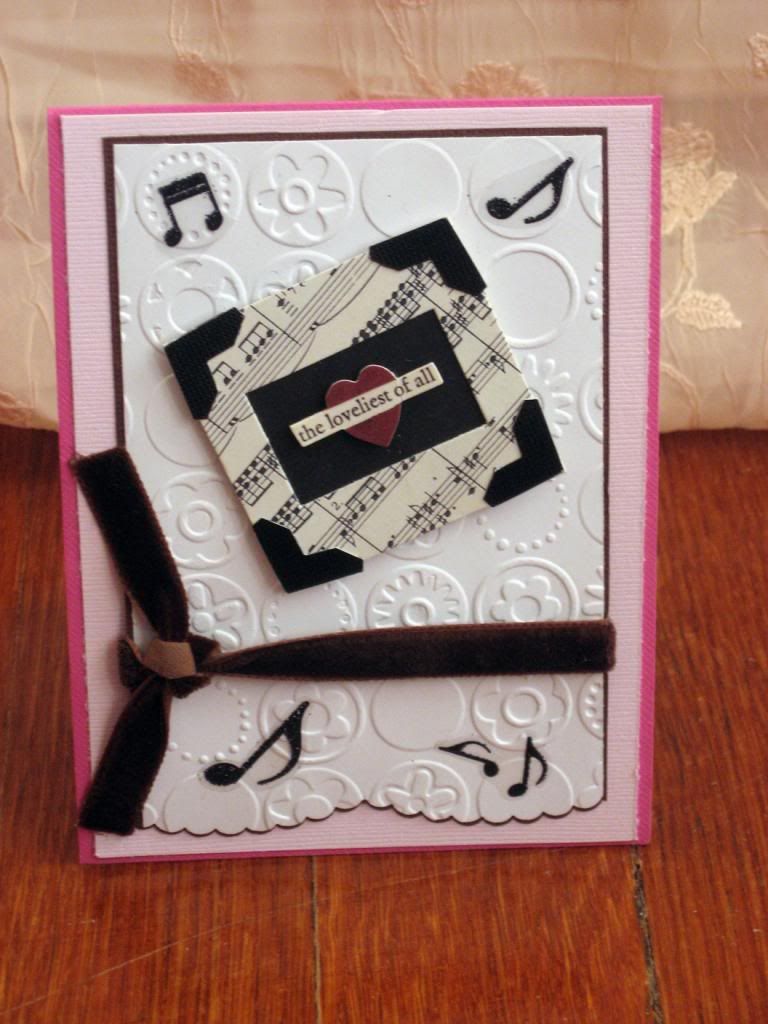 Interior view. I love this bubblegum pink cardstock from Bazzill. Some more notes inside. And a heart for a pretty little girl.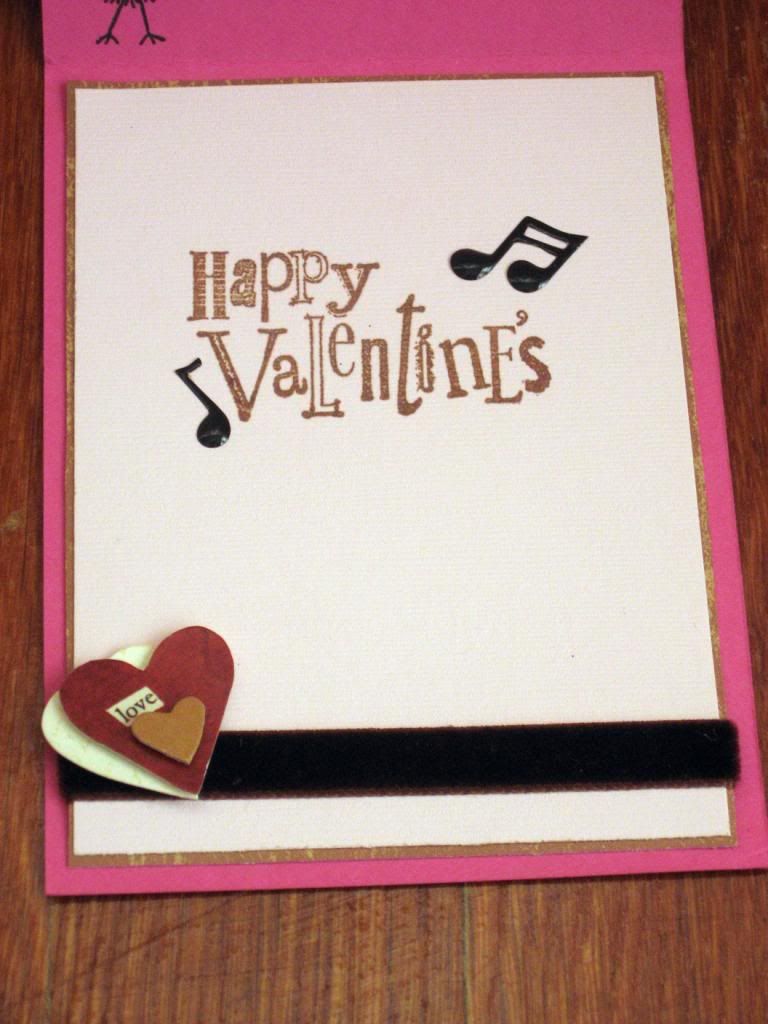 I've recently realized that for my envelopes I don't have to use heavy cardstock anymore. Regular DP or DP that's a little heavier works just as great. This envelope is regular DP. It makes decorating an envelope so much easier when it's already decorated. Two-sided DP works even better because then the inside of the envelope is decorated too!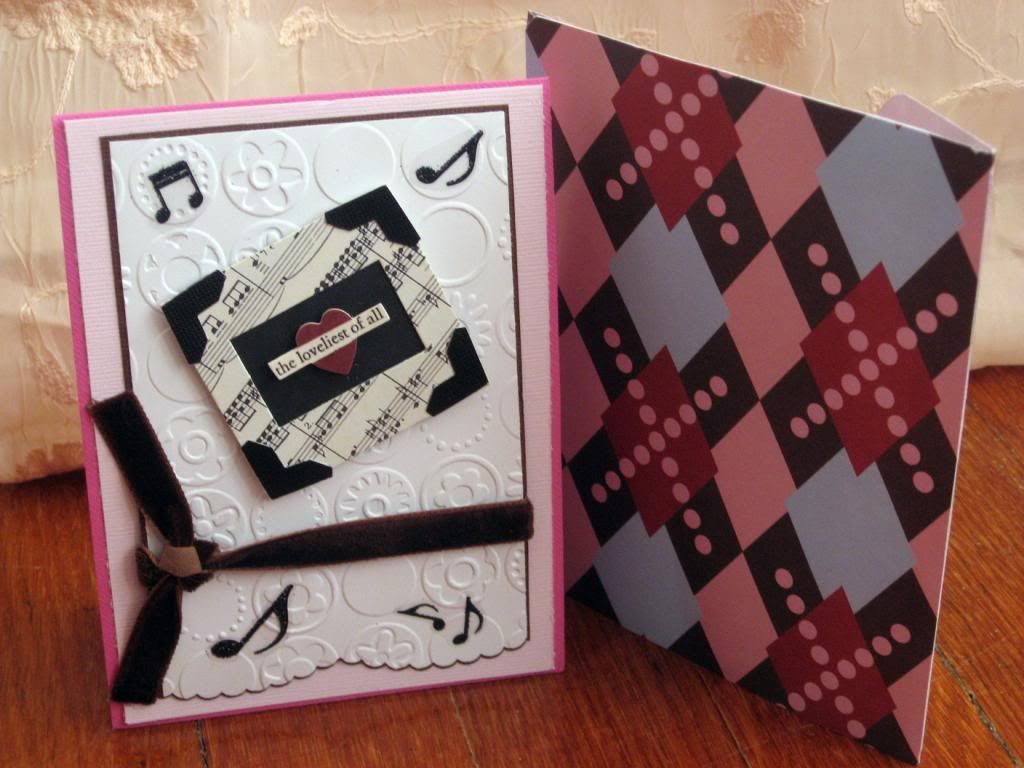 My mom made this card from a sketch I found. She was supposed to just keep me company as I made cards because she was suffering from tendinitis in her wrist, but she couldn't resist. She made this little cutey and of course suffered the consequences later that night when her wrist swelled up again. This card is Gaby's Valentine's Day card from me, my mom, my dad, and my brother.

CARD 456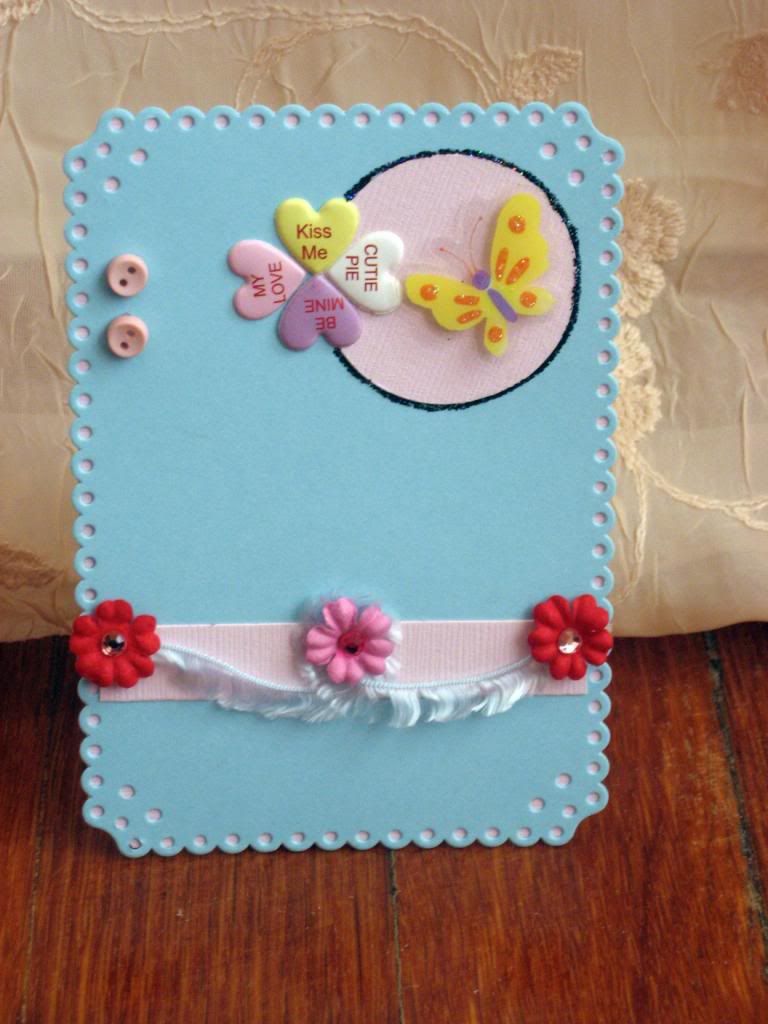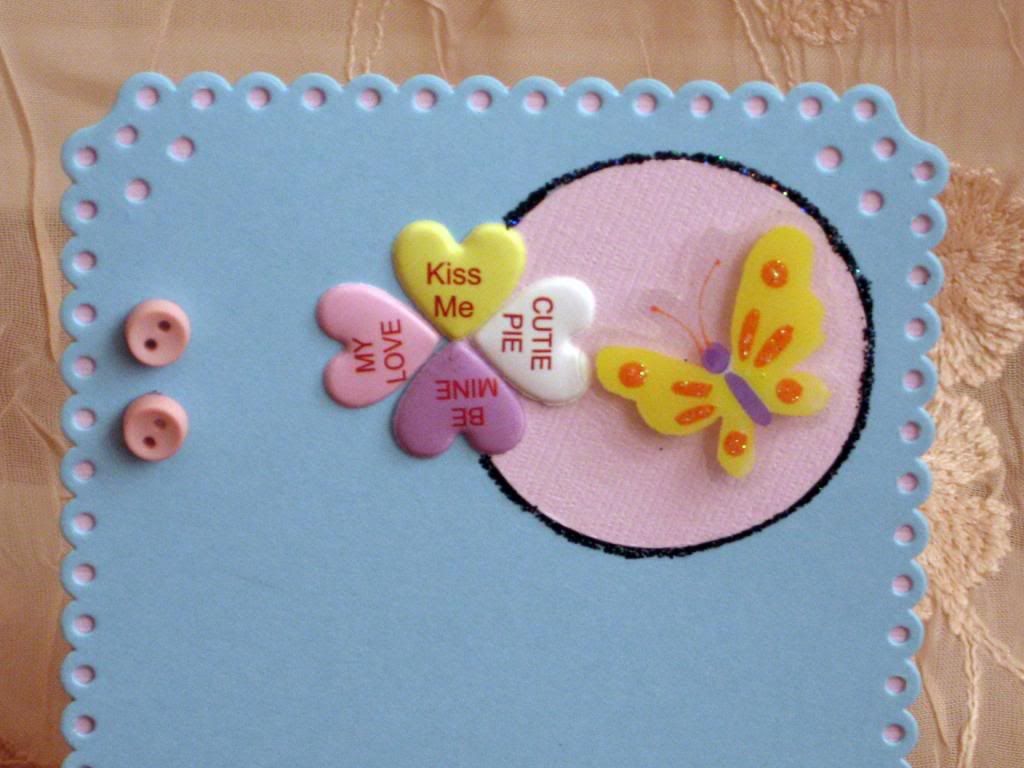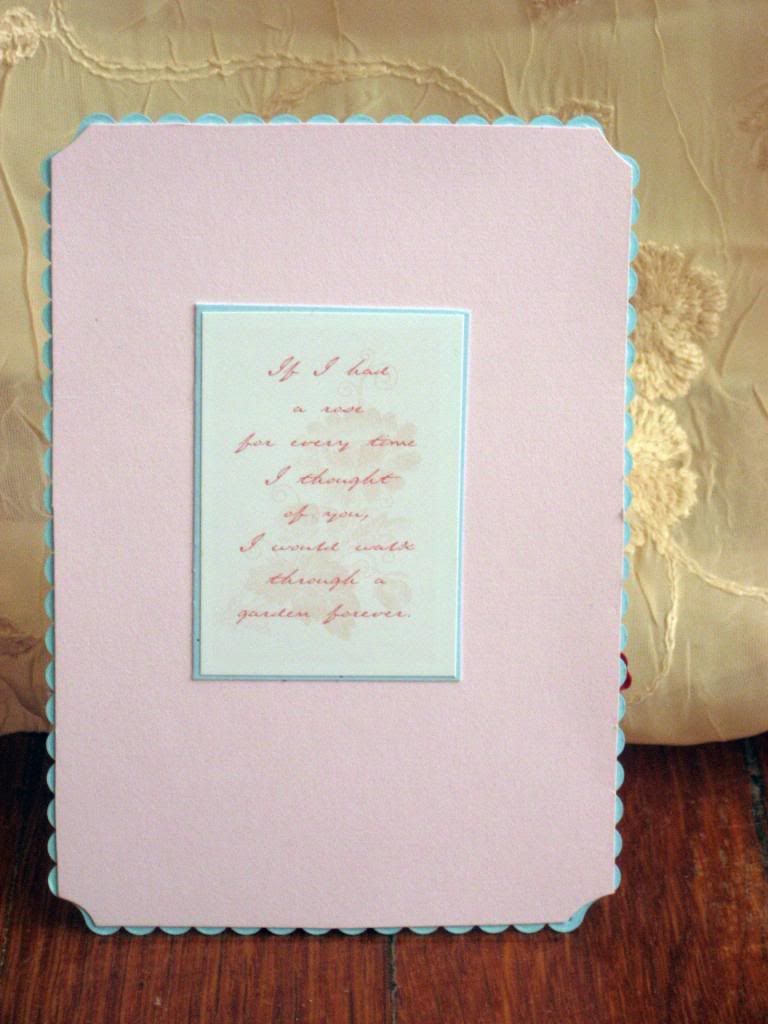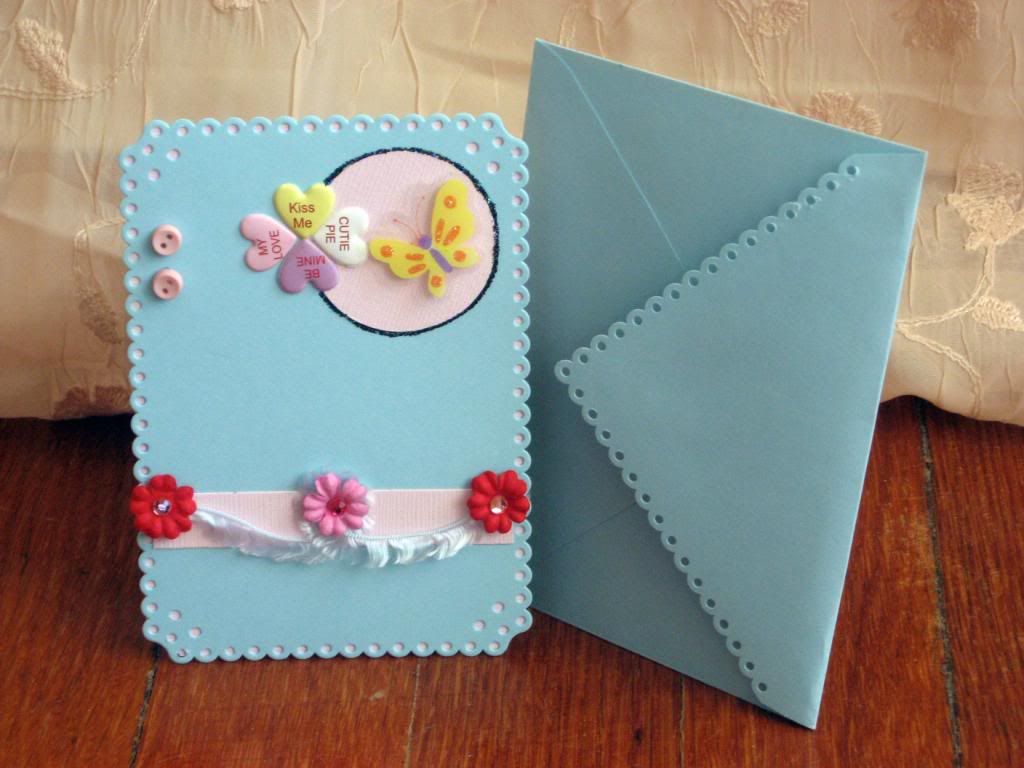 Finally, Geovanni's card!! Before I left to Florida for Christmas, my youngest nephew Geovanni asked me to make him a Christmas card. I forgot! In my defense I had so much to do before hand but I also thought he would forget. He didn't. When I got there he asked me where his card was. I felt terrible!! So I took advantage of some free time when I came back and I made him this doosey. I took inspiration from Cardmaker magazine again because I saw a card in there with a similar look and thought, "Geovanni would love that!" I made this card Green because green is his favorite color. The map displayed is of Holiday, Florida where my brother lives, and I made a black paved road. I drive a metallic blue Nissan Sentra SL, nothing like the bus on the card, but I didn't have any car cuts available for my Cricut so I just made a bus and wrote "Titimobile" on it. My niece and nephews call me Titi. Actually everyone does. I also added a little reindeer to keep with the spirit of the season.

CARD 457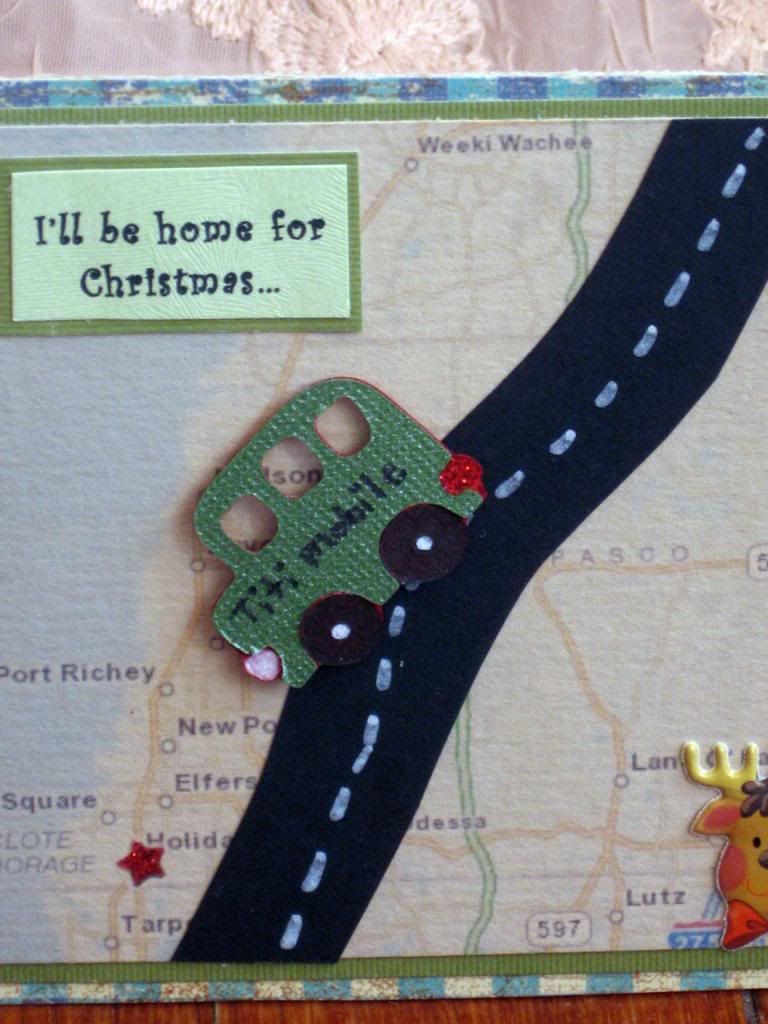 I didn't think to take a picture before I wrote in the card so below you can see my words to my nephew.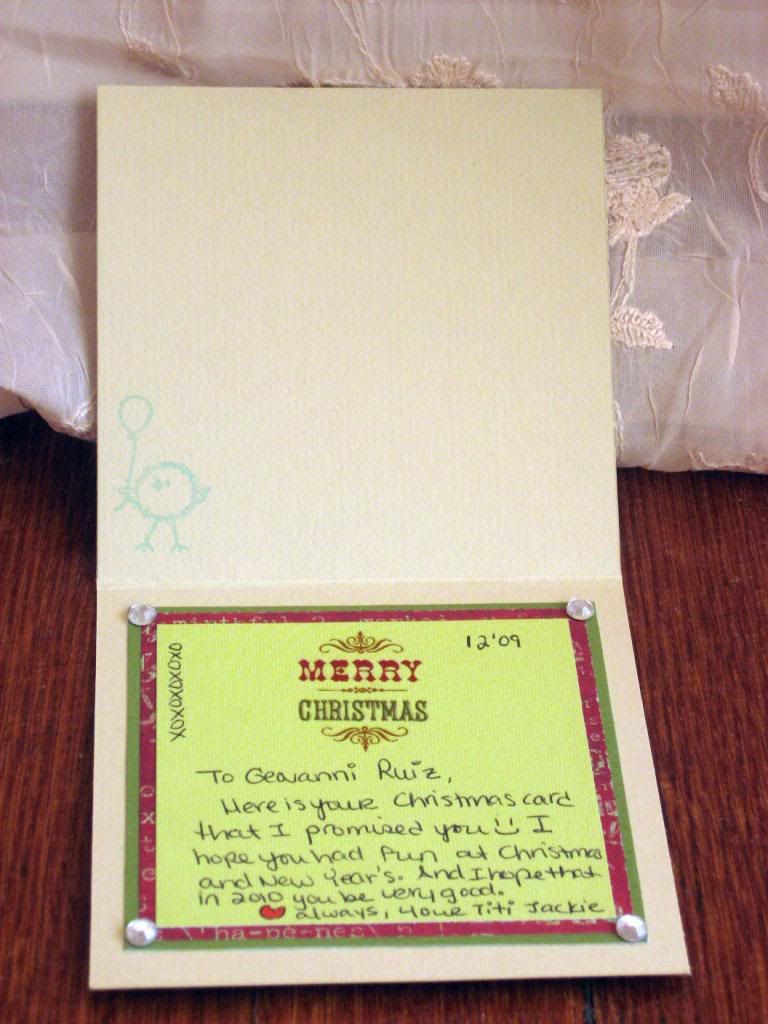 Close-up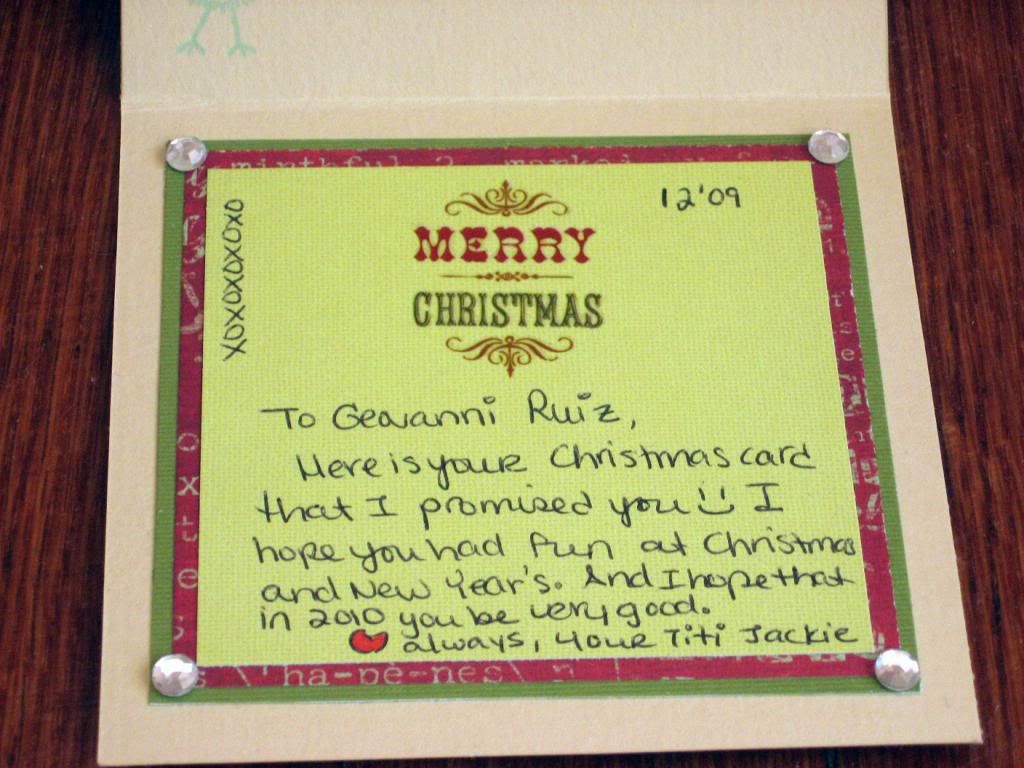 I love the envelope for this card. It's a new type of envelope I'm trying. I used my Cricut Expressions but I can't remember the name of the cartridge.

I love my Doodlecharms cartridge from Provocraft that I use with my Cricut. It lets me make borders. I knew I would make a border for Geovanni's card to make it extra special. When I spoke to him after receiving the card he said he really liked it.